Recent radio shows & podcast appearances:
---
-November 11th, 2018: Hidden Path Podcast: hiddenpathpodcast.com
-October, 1st, 2018: The Pine Barrens Institute: pinebarrensinstitute.com
-July, 29th, 2018: Behind the Paranormal with Paul & Ben Eno: behindtheparanormal.com
-July, 20th, 2018: The Paradigm Matrix: kcorradio.com/The-Paradigm-Matrix
-June, 19th, 2018: Girls vs Ghosts TV: vidi.space/portfolio/girls-vs-ghosts
-June, 6th, 2018: Undiscovered Beasts and Strange Phenomena: blogtalkradio.com/undiscovered-beasts
-May, 28th, 2018: Bride of Chickenstein Podcast: brideofchickenstein.libsyn.com/41-aleksandar-petakov
Upcoming events & speaking engagements:
---
-January 25th, 2019: Vendor at HTH Paracon 2019, Manchester, New Hampshire
-February 20th, 2019: Presenting on "Granite State Bigfoot" & screening a documentary at the Derry Public Library, New Hampshire. Register here: eventkeeper.com/DERRY
-April 27th & 28th, 2019: Vendor at the fourth annual International Cryptozoology Conference, Portland, Maine.
-October 4th & 5th, 2019: Presenter at 2019 Greater New England UFO Conference, Leominster, Massachusetts.
granite state bigfo

ot comic book
---
Recent collaboration with Mitchell Comics about my personal research into accounts of "Bigfoot" sightings in New Hampshire that took place in the 1970's. Featured as a character in the comic!
Order the comic here: Granite State Bigfoot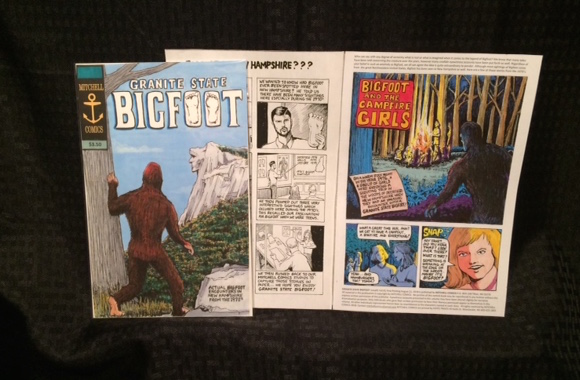 On the trail of...Champ related articles/features:
---